POPSUGAR Fitness
This Simple No-Equipment Workout Will Get You Toned and Ready For Vacation in a Jiffy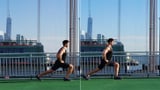 We hear you, we're breezing through Spring without a hint of warm weather in sight. It's been challenging to say the least to get your butt out of bed, and into that workout kind of mood. Regardless of what your weather app says, warmer days truly are around the corner and vacations are lined up. But don't fret, we've got a workout that will get you up and out and into the spirit of Summer in no time.
You don't need a total-body overhaul every time you're about to hit the beach. In fact, stay true to those curves and embrace the bod you do have and try this last-minute toning that gives you all the feels of a superintense workout regimen. Fitness pro Mike Nicholson, a trainer at Chelsea Piers in New York City, has devised a plan for you that relies on the AMRAP method (which literally translates to "as many reps as possible," but stop right there: you're not going to be doing burpees as many times as you can in one minute, but you will be burning mega calories as if you did). While you'll reap the same benefits as those workouts that have you going all out in one minute, the moves compiled in this routine are meant to hit all those areas of your body that will be seen once you're on the beach basking in the sun.
"By doing this routine in the AMRAP style, you won't be spending a ton of time on the workout overall, but you'll be able to pack in as much toning and sculpting as if you were logging hours every week at the gym," says Nicholson. The structure of AMRAP promotes pushing yourself to the max within a set period of time. Nicholson grouped moves together that are functional fitness faves. Not just a trainer buzzword, these moves are key to functional exercise integration, teaching all the muscles to work together rather than isolating them to work independently (basically, with these moves you're training for life, and the day-to-day movements). "By doing AMRAP, you'll know you're not going to be wasting any time activating your muscles or getting your heart rate up - you're just doing it and the results will quickly follow," he says. So even though you shouldn't expect to see the scale budge a whole lot in just a few weeks (unless you're truly following a weight-loss regimen), when you've pumped up your muscles and sweat it out as much as you did during an AMRAP workout, your biggest payday is the confidence you feel once you've hit the beach.
Directions: This routine includes five bodyweight moves. Perform each move for 40 seconds, then rest for 20 seconds. Go on to the next move. Once you've completed all the moves, return to the beginning and repeat. Do three rounds total. If you feel like taking it up a notch, use dumbbells (5 to 10 pounds).